What is Hair Transplant?


loss and thinning hair are common problems in both men and women. Almost all males experience some form of hair loss in their lifetime. There are many reasons for this including aging, family history, as well as burns or trauma. Even women can experience hair loss, not just through traumatic events, but also naturally. In fact, one in five women will experience some degree of hair loss.

Some individuals experiencing hair loss choose to wear a wig, or hair extensions to cover their baldness. Then there are those who use pills, and formulas to improve their appearance. Cosmetic surgery provides a solution for those looking for a more natural result.

Currently, there are several conventional options for dealing with hair loss or Alopecia in both sexes. The choices range from over-the-counter topical treatments such as Minoxidil to prescription medications like Finasteride (Propecia) and in some instances, surgical options and hair transplantation. Advancements in cosmetic surgery have allowed men and women to regain the appearance of a full head of hair. Not only do these hair restoration procedures help individuals to regain a sense of youthfulness, it can also help boost their confidence to increase productivity towards the individual and society.

One important feature about this particular procedure is that it uses your natural existing hair. However when considering a hair transplant, it important to remember there are limits to what can be done with your existing hair and reducing the appearance of baldness. Several sessions may be needed to achieve optimal results. Also the final results of your hair transplant may not be evident for months, possibly a year after undergoing the first surgical treatment.

With the increasing popularity of various cosmetic surgery procedures, including hair restoration procedures, it is imperative that the prospective patient research and understand different issues like what the procedure can and cannot treat, inherent risks, costs, and so on. Keep in mind, cosmetic surgery is just that – a surgical procedure whose results cannot simply be erased. When considering any form of cosmetic surgery, it is important to have a good understanding of the procedure before making a decision. Take some time to view the introductory information we have provided on hair transplants. While the information contained in this website will provide you with a basic understanding of the procedure, it may not answer all of your questions. To get complete answers to the questions you are seeking, we recommend that you contact us.

Causes of hair loss:


1- Malnutrition and a lack of iron and amino acid, the main nutrient for hair follicles and Pilosebaceous units.
2- Pregnancy, Breast feeding and menstruation (commonest cause in female).
3- Genetic factors play a major role (Commonest cause in male).
4- Chemicals: dyes, oils, shampoo with ammonia.
5- The psychological causes: stress causes hair loss in some cases even some psychological problems push the patient to pull his hair, in a manner unintended or scratch specific areas of the head, causing hair loss and susceptibility to baldness.
6- Diseases and some drugs: There are some drugs used in the treatment of diseases such as cancer, which causes hair loss and baldness, as well as disturbed thyroid hormone.
7- There are other reasons such as injuries or scars as a result of trauma and burns or previous surgery.
8- Many other minor reasons, such as aggressive massage of the scalp, plastic comb, dandruff.

Management of Hair loss:

There's some emerging research that points to natural alternatives for addressing poor hair quality as well. Many of these holistic options only have preliminary evidence to support their use. But, they do offer hope for those who have not found success with conventional therapies or who have discontinued their use due to side effects or other complications.

Before I list some of the most promising alternatives, I want to emphasize that it's vital to have a complete medical work-up if you're experiencing unexpected hair loss.

By that I mean loss that occurs suddenly or that doesn't appear to be related to any recent hormonal change, new medication, physical or psychological trauma, dramatic weight loss or genetic predisposition. If all tests come back as normal and you're looking for a natural approach, here are some options that may be worth considering:

• Flaxseeds

• Tocotrienols: Vitamin E isn't just one isolated chemical. The most popular form of E that we find in supplements is called "alpha tocopherol". In many foods, a different type of E (gamma tocopherol) is commonly present. But there's another side to the Vitamin E family: the tocotrienols. Tocotrienols are generally extracted from palm fruit and/or rice bran. They are powerful antioxidants which have been extensively studied for their health effects in the body. The most common areas of scientific interest generally involve their impact on cancer and cardiovascular disease. But new data points to their potential in the management of hair loss as well.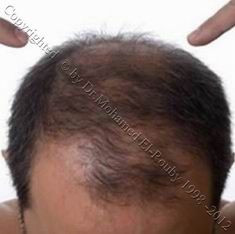 • EGCG (Green Tea Extract)

• Silica: Silica is a trace mineral that is believed to support the health of connective tissue such as collagen (found in cartilage and skin) and keratin (found in hair and nails).

• Biotin: Biotin is a micro-member of the B-vitamin family. It's only necessary in very small quantities, but if you're deficient, symptoms such as falling and thinning hair may result. The beauty of this supplement is that it also plays a role in blood sugar management and strengthening nails and skin. A rather large dosage, typically 2-10 mgs, is often recommended. It's best to split up the dosage throughout the day.

• Laser Therapy: Laser phototherapy is a treatment that can be administered in clinics or applied at home. It employs the use of "near infrared lights" to combat scalp inflammation and promote the growth cycle of follicles. No adverse effects were noted. Other forms of hair loss, such as alopecia areata, may also respond to laser therapy.

• Apple Extract: A class of antioxidants contained in apples, grapes and various other fruits and vegetables may stimulate the growth of hair in a similar manner as Minoxidil. The effects became more significant with time and no side effects were reported.

• Propecia: In addition to these alternatives, I suggest supplementing with healthy fats such as fish oil and GLA, which can be found in black currant seed oil, borage oil, evening primrose oil and hemp oil. I also recommend following a diet that is rich in antioxidants and anti-inflammatory foods, low in sugar and adequate in protein. If you're trying to lose weight, make sure to do so in slow and steady manner. Select nutrient dense, whole foods that provide vital minerals and vitamins as you shed the excess weight. It's almost always a good idea to also take a high potency multivitamin/mineral to provide added insurance against common deficiencies.

In terms of topical products, try to use the mildest, most natural hair care products available. Avoid products with harsh cleansing agents, artificial colors, preservatives and synthetic perfumes. You can even invest in a chlorine filter for your shower. Chlorine is a powerful antiseptic, but can dry and irritate the hair, scalp and skin. The general idea is to avoid anything that dries out or inflames the follicles and promotes hair breakage.

Hair loss and thinning should be approached in the same way that we address all other health issues.
Firstly, try to identify the true cause of the problem.
Secondly, utilize the safest and most natural options whenever possible.
Finally, hair restoration surgeries may be necessary, but they shouldn't always be the first choice.

By following these basic steps you may be able to improve the actual health of your hair and more importantly, the overall condition of your health.

Benefits of Natural Hair Transplantation Surgery:

Hair transplantation provides an easy way to get a new natural look of hair. While hair transplantation does not actually add any new hair to the head, it redistributes the existing hair to provide more hair in bald area. In addition, hair transplantation increases the density of existing hair and reduces hair loss in non-hairless areas by medications which are used to enhance the implanted hair during the first three months after transplantation.

Religiously, natural hair transplantation is acceptable in Islamic Beliefs. The used hair is of patient himself hair and not that of other person or of animal source, i.e. neither wigs, nor artificial hair.

Psychologically, hair transplantation improves self-confidence by having the appearance of a handsome and non-bald head. Patients practice a normal life without the need to wear neither head caps nor wigs.

Medically, on the contrary, artificial hair (Biofibres) has many risks. It weakens the scalp and increases hair loss, causes multiple infections and scarring of the scalp tissues, that hindering implanting natural hair later on. Also, synthetic hair does not remain - using their best types - for more than three to five years with the use of many medications throughout this period. Then, it will be lost completely. While, the implanted natural hair remains lifelong and does not require special treatment except for only the first three to six months post-transplantation.

Using natural hair transplantation, there are no side effects, except only the donor site scar which is hidden under the back-hair.

What Constitutes a Qualified Candidate for Hair Transplants?

For those considering hair transplants, an ideal candidate for the procedure is one who:
- has healthy hair growth at the back and sides of the head to serve as donor areas,
- is self-conscious about their appearance,
- has a good understanding of the procedure,
- has realistic goals and expectations.

Degrees of baldness:

There are seven degrees of baldness in men and three degrees of hair loss at the Ladies


How are Hair Transplants Performed?

Aim: The general concept of hair transplantation is that the transfer of the active healthy hair follicles that present in the back and not affected by hormonal changes to the hairless areas that their hair follicles was inactive by hormones.

Idea: There are two types of human hair follicles in the scalp; the first one presents in the frontal region and contains receptors which could be affected by male hormones, and the second type presents in the back and sides of the head and does not contain these receptors. The number of receptors (under the skin surface) and how they are affected by hormones are genetically determined. The activation of those receptors leads to hair loss and baldness.

The life cycle of human hair pass through three phases:


- The first phase "Anagen": growth and lasts 2 to 6 years;
- The second phase "Catagen": transition from active and resting phases and lasts 1 to 2 weeks;
- The third phase "Telegen": resting and lasts 5 to 6 weeks in active follicles and many years in inactivated follicles.

There is no medication until now that block these receptors, and if it is present there will be no baldness forever. Till innovate this drug, the only medical way to get off baldness is the Transplantation of active hair follicles from the back area to baldness area.

Anaethesia:
- Local anaethesia
- Local anaethesia with sedation

Techniques: there are many methods for hair restoration surgeries. Each technique has advantages and disadvantages. They differ according to the method of collecting the hair follicles from the donor site and method of insertion to the recipient sites (Note the bullet of each technique):
a - Macro-grafts (pieces or bunches each contain more than 10 follicles).
b - Mini-grafts (pieces or bunches each contain 7 to 10 follicles).
c - Micro-grafts (pieces each contain 5 to 6 follicles).


d - FUT or FUI (Follicular Unit Transplantation or Implantation) (pieces each contain 1 to 4 follicles).


e - Strips graft and dividing to FUT and Micro-grafts.


f - Slit grafts.


g - Local flaps with tissue-expansion


h - Scalp-reduction.



Success rate: over-all between 80% to 95%.
- Techniques (a,b,c,d) 80% to 90%.
- Techniques (e,f) 90% to 95%.
- Techniques (g,h) 70% to 80%.

Amount of transplanted hair: over-all 1000 up to 10,000 follicles.
- Techniques (a,b,c,d) 1000 up to 2500 follicles.
- Techniques (e,f) 2000 up to 5000 follicles.
- Techniques (g,h) 5000 up to 10,000 follicles.

Time of the Procedures:
- Techniques (a,b,c,d) 6 hours up to 12 hours.
- Techniques (e,f) 4 up to 6 hours.
- Techniques (g,h) 2 to 3 stages, each 1 to 3 hours with 2 months interval.

Side effects:
- Techniques (a,b,c,d) low density, time consuming, bleeding.
- Techniques (e,f) scar in the back of scalp but hidden inside back hair.
- Techniques (g,h) scars in the scalp, bleeding, staged (2 to 3 stages).

Recipient site:
The openings in the bald area could be done by different methods:
a- Slits 2-3 mm (linear) the most used to increase density but more bleeding and used only for macro-grafts.
b- Mini-bunches 1-2 mm (circular) the most natural appearance, less bleeding but used only for FUT.
c- Maco-bunches 2-3 mm (circular) obsolete as it causes bleeding, ugly scars.


Then, the transplanted hair is arranged in special patterns and inserted in special direction to make the most natural appearance. The plugs/grafts are carefully spaced, about 2-3 mm. This will help allow adequate blood supply and help the hair grow in a natural direction and improve its appearance.



After Transplantation and Follow up:

After that, the head is covered by a bandage for five days, to help graft take of the transplanted grafts.
Systemic antibiotic (as prophylactic), analgesic and anti-inflammatory drugs are applied for one week.

After removal of the bandage, the local drugs are used to enhance growth of the transplanted hair for 3 to 6 months.
Stitches are removed after 10 days.

Hair need three to six months to begin to emerge and will grow up to normal length within six months up to one year. During this period close follow up is needed to improve and maintain the results. If you should travel abroad, this follow up could be done remotely by digitalized photos, e-mails and telephone calls.

Early shaving of the transplanted hair is forbidden up to 6 months after procedure to give the hair chance to complete a life cycle.

So, the final result may not be clear before a year after transplantation.


What are the Risks and Uncertainty associated with Hair Transplant Surgery?

With any form of surgery there is always some degree of uncertainty and risk. With a hair transplant, there is little chance that risk and complication could occur, especially if performed by qualified surgeon. You can also reduce your risk of complications by closely following your doctor's instructions both before and after the procedure. However, you should be aware that: Scarring may occur on the graft sites. However, most scars are small and are covered up by growing hair. Infection can occur in any surgical procedure. For a hair transplant, infection can occur in the grafted areas. Systemic antibiotic may be prescribed before the procedure, as a precaution, or afterward if infection occurs. You may need to avoid strenuous activity, including sexual activity, for at least 10 days after surgery. Any surgical procedure can carry some degree of uncertainty. With hair transplants, there is a chance that some of the grafts will not work (less than 10%). Also hair loss could still occur after surgery to non transplanted hair. This can result in an unnatural look with patches of bald spots around the head. Additional surgery may be required to correct this appearance.

What are the typical costs associated with Hair Transplant Surgery?

Often the price says nothing about the quality of the work. Most multicenter clinics charge much more than private doctors — their advertising budget is more and the owner of the clinic has to take his 20% or 30% off the top. In my opinion, you are less likely to get a quality procedures at these multi-center locations.

Although price is a factor when deciding on surgery, the most important factor is that you feel you are getting a good quality, natural-looking result from the procedure.

Hair transplant costs are variable according to the amount of transplanted hair, the area to be managed and the used technique. Usually the cost is ranging from 1000 to 2500 U.S. dollars. When dealing with costs, you also need to take into consideration the fact that the procedure may need to be repeated. Most medical insurance providers do not cover the procedure.

Frequently asked questions from patients when considering undergoing a Hair Transplant?!

Personality analysis by hair?

"Your hair is a measure of physical endurance and overall strength. If your hair is fine, delicate and silky, you are sensitive and fragile physically especially if you are of a slender build. Thick wiry hair is an indication of your physical competence and your resilience in life. You have great recuperative powers and may like a challenge in life. No hair !!!". "Hair makes a statement of its own. To look young, keep your hair in a youthful color and style. Style, texture, color, and length reflect personality, sexuality, from personality disorders. People who color their hair black, often suffer from depression, the outer expression mirroring the inner self. Astrological signs often link with hair; i.e. someone with a Leo Sun, will generally have a thick mane of hair".


Q - Is it possible to take any follicles, other than back of the head?
A - No, body hair follicles are weak and they have different quality.

Q - Is it possible the transplant beard and mustache?
A - No, because those areas have follicles similar to those in nape those could be activated by medication like local cortisone (Elicon lotion 1%) unless these areas are scarred.

Q - Is it possible to transplant scars?
A - Yes, but the success rate is less than 80 %.

Q - What is the meaning of success rate of 90 %?
A - i.e., each 100 transplanted follicles, 10 follicles will be lost within the first 2 weeks.

Q - Is it possible this procedure to complete baldness (7th degree) "Alopecia Totala"?
A - Of course there are no enough donors for that so, artificial hair could be used or if there is limited donor, multiple sessions could be applied.

Q - What is the least and most amount could be transplanted per session?
A - The least amount of hair is 2000 follicles and 5000 follicles is the most amount of hair.

Q - What is the duration of the procedure?

A - Ranging from 4 to 6 hours.

Q - What is the type of anesthesia, and when I can return to normal life?
A - Local anesthesia with or without sedation, and you can practice your normal life 2 hours after the finishing the procedure.

Q - What are the symptoms that may occur in the first five days after transplantation?
A - Traction pain in the nape which could be managed by pain killer's medications and there may be edema or swelling of the forehead.

Q - What are the guarantees that the success of the process?
A - There is no doubt that the followers of the medical instructions and always reviews the main factors for the success of transplantation. If not, the process to achieve the agreed outcomes before the process repeats at reduced cost.

Q - When can we do hairdressing and shaving?
A - after the first six months.

Q - Can hair be cloned?
A - There is no way for such so far.

Q - Are transplanted hair seems naturally?
A - Yes, especially if medications (which are prescribed) are used correctly.

Q - What is the solution for active hair loss?
A - Hair transplantation should not be done with active hair loss. You must wait till treatment of dandruff and weak hair.

Q - If you are not Egyptian, What is the minimum period for follow up?
A - Five days.

Q - What is the difference between natural hair transplantation and Biofibres or hair unit?
A - Biofibres are synthetic and formed of plastic materials or horse hair, immune rejection of this materials cause severe inflammatory response with infection. It will be lost within 2 to 4 years after implantation. Biofibres need many post-implantation medications that continue for years to minimize infections. You cannot use hair dryer or make especial hairdressings. It is expensive (2 U.S. dollars per one hair) in proportion to natural hair implantation costs (0.5 U.S. dollar per each hair). It is not acceptable to Islamic religious laws. Wig or Hair Unit "New Look" has a major problem as it is not acceptable to Islamic religious laws. Also, a bad odor sticky material is used which is very offensive and cause scalp inflammations.
But there is one reason for using Biofibres, the lack of any donor hair from the head, such as in cases of Alopecia Totala or complete burn injuries of the scalp.

Q - What is Mesotherapy?

A - "Meso-" means the middle layer of the skin and "-therapy" means treatment or dealing with. This layer contains most of the important structures of the skin as sweat glands, collagen fibers, and hair follicles. Thus the word Mesotherapy means to strengthen and nourish the middle layer structures by injecting multi-vitamins or use topical agents that penetrate the superficial skin layers and reach the middle layer structure. This method could be used during active hair loss to minimize it and strengthen the weak hair but it is used as multiple injections (6-8) as one injection each week for 2 months then one injection each 2 weeks for 2 months. This method could be used also to enhance the transplanted hair. Each injection costs about 75 U.S. dollars.

Q - Is it possible to transplant the eyebrows?
A - Some patients with lupus and burns suffer from hair loss of eyebrows. There are 2 ways to treat this problem; first, by medication like Elicon lotion. The second solution is planting hair as strips.

Q- Can you implant hair on scarred areas?
A - Old burns and scars have poor vascularity so, if the scarred area is limited (less than 3 cm in width) it could be excised directly, if more tissue expansion and local flaps could be used. However, implantation of Biofibres has a less inflammatory reaction, so it could be used?!. The natural hair transplantation has less than 80% success rate, so it should not be used.

Q - What are the non-surgical methods for growing hair?
A - There are a wide variety of creams and lotions in the markets that companies claim they enhance hair growth and stop hair loss. However, many of these products use monixidil which were used in the treatment of blood pressure and physicians note the appearance of hair - in some females, who used these drugs for long periods - in areas such as the chin and mustache. This material really enhances hair growth but one it is stopped all hair will be lost as it has addiction like action for the hair.

Monixidil may work for men

- Who have been bald for less than 5 years
- Whose bald area is less than 10 cm across and/or your main problem is general thinning
- Whose hair loss is mainly at the top of the head
- Whose bald area has lots of tiny, fine hairs.

Monixidil is not likely to help men
- who are completely bald
- Whose main problem is receding hair (frontal loss)
- Whose bald scalp has very few tiny, fine hairs.

Bear in mind that Monixidil
- Is not successful for everyone – only about 35% of men have noticeable regrowth of hair, and this is often fine and downy – and the manufacturers advise users to give up if there has been no regrowth after using it for 1 year
Has to be applied twice a day, 7 days a week and does not produce a permanent cure. If the treatment is stopped, the follicles go back to how they would have been without monixidil. About 10–12 weeks after starting monixidil you may notice some extra hair loss. Take no notice; these are simply the old short downy hairs at the end of their life.
- It should probably not be used by people taking drugs for blood pressure, or who have angina. The solution contains alcohol, and can cause irritation in some people.

Mesotherapy also was misused to restore hair in sever degrees of baldness. Finally, synthetic hair is applied by hair dressers without any medical experience.

Q - What is Propecia?
A - Proprecia is for use by men only, to treat male pattern hair loss by increasing hair growth on the scalp and preventing further hair loss. Male pattern hair loss (also known as androgenetic alopecia) is a common condition in which men experience thinning of the hair on the scalp. This often results in a receding hair line and/or balding on the top of the head. These changes typically start to occur in some men in their 20s and become more common with age.

Once hair loss has occurred over a long period of time, the hair may be permanently lost. Male pattern hair loss is thought to be caused by a combination of family history (heredity) and production of a particular male hormone, called dihydrotestosterone (DHT). Men with male pattern hair loss have more DHT in the balding part of their scalp than in other parts, resulting in increased hair loss.

How Does Propecia Work?
Propecia specifically lowers the levels of DHT in the scalp, thus helping to reverse the balding process. Propecia does not affect hair on other parts of the body. Men with mild to moderate, but not complete, hair loss can expect to benefit from the use of Propecia. There should be no need to change your usual hair care routine (for example, shampooing or haircuts) because you are taking Propecia.

How long will I have to take Propecia for?
Male pattern hair loss or baldness is a condition that develops over a long period of time. Because it takes time for new hair to grow, you will not see immediate results. In general, daily use for 3 months or more may be necessary before you notice increased hair growth or prevention of further loss. Continue taking Propecia for as long as your doctor prescribes.

Propecia Side Effects
Propecia helps most men with male pattern baldness or hair loss, but it may have unwanted side effects in a few men. All medicines can have side effects. Sometimes they are serious, most of the time they are not: decreased amount of semen released during sex (this decrease does not appear to interfere with normal sexual function), breast swelling and/or tenderness, skin rash, itchiness, testicle pain and swelling of the lips or face.

Q - What are the contraindications of Hair transplantation?
A - There are no absolute contraindications but the patients should inform their surgeons about any allergies, serious medical conditions, and medications they may be taking.

----------------------------------------------------------------------------------------------------------------
Summary of Hair Transplantation:

The time of the procedure: from two to six hours.
Type of anesthesia: local anesthesia +/- sedation.
Location: hospital or clinic without postoperative hospital stay.
Expected Side effects: few, such as mild swelling, aches, which treated by analgesics.
Recovery time: return to work immediately and the final outcome within the first year.
Cost: according to the number of transplants, ranging from 1000 to 2500 U.S. dollars, or 5000 to 12,000 Egyptian pounds.
Results: a lifelong